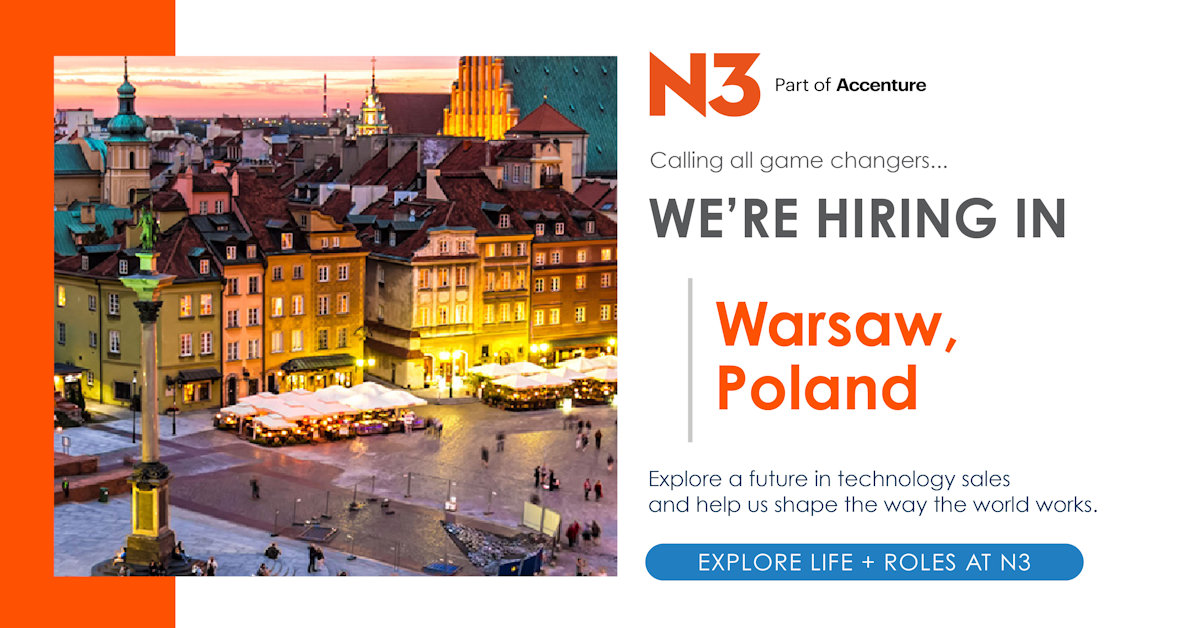 Life is different at N3. We are driven by our passions and propelled by our quest to innovate, thrive and learn. We are the tastemakers of technology, transforming the way the world works and shaping the future of business. We work hard. We play hard. We make moves. Here, success is no accident. It's ours to grow.
N3, Part of Accenture, is a sales and marketing solutions firm dedicated to working with software and technology solutions providers. Our client base includes a range from small start-up companies to market leaders such as Microsoft, Cisco, Google, and more as well as their partner networks. N3 has sustained rapid growth since its founding in 2004.
We are a performance-based organization that rewards creativity, hard work, and success. N3 is not your typical corporate environment. Our business casual atmosphere and fast-paced workday make N3 a unique place to work.
Graduate, Trainee, Junior, Experienced – all levels welcome
Do you…
Look for a company that can train you and supports you in establishing your successful growth within the most desired sales sector?
Want to work in Technology with some of the hottest household brand names on the planet?
Desire to develop a life-long career in the growing software, IT, and technology hardware market?
If so…
This is a fantastic opportunity to start or continue your journey in cutting-edge cloud technologies & professional services sales.
What will you do:
Successfully communicate with small-to-medium businesses daily via the phone and email to drive software renewals, maintenance, or support contracts.
Provide routine analytical and administrative support for customers and partners to guide them through their renewal opportunities and process.
Support general account sales strategies for named accounts and prospects for cross-selling and up-selling opportunities.
Promote value proposition of upgrades and renewals to maximize return on products and solutions.
Identify and qualify the key aspects of a potential lead, including need, budget, time frame and decision-maker to kick-off the sales process.
Communicate information about calls accurately and effectively to the management and clients.
What we expect from you:
Some sales or marketing experience is a huge plus but the right attitude and willingness to learn is the most important.
Tech-savvy mind, with the capacity to learn about individual systems and products quickly and accurately for marketing purposes.
Excellent oral, written and verbal communications skills are required.
The ability to learn quickly and retain knowledge.
Time management and the ability to work independently or under supervision.
Strong interpersonal skills and a high level of integrity.
High level of self-motivation and strong work ethic.
Estonian – level C1 required.
What can we offer:
Competitive salary depending on your skills and experience with a potential to earn up to 30% more in performance-based bonuses.
Market-leading sales and tech training backed up by widely recognized official certification.
Constant care of a sales coach including training sessions, skill-building & professional development.
Constant support and clear development path from your first day at the office – dedicated Buddy, who will help you in adjusting to the new workplace.
Focus on your strengths and continuous feedback enable fast professional growth, as well as new skills building by various online and classroom training.
Medical insurance, multisport card, the possibility of working remote – location related.
Bonuses for referring new employees.
Inclusion and diversity in practice: truly multicultural environment; we support LGBT, people with disabilities, and parents. In our culture of equality, people are truly valued for their differences and free to be who they are.
A flexible approach that allows an appropriate work-life balance where sports activities, outings, volunteering initiatives are part of our regular day-to-day life.
Commitment to reducing our environmental impact in terms of carbon, water and waste across Accenture facilities and in the communities in which we work and live by joining different initiatives.
[vc_btn title="APPLY NOW" color="danger" size="lg" align="center" link="url:https%3A%2F%2Fphg.tbe.taleo.net%2Fphg01%2Fats%2Fcareers%2Fv2%2FapplyRequisition%3Forg%3DN3LLC%26cws%3D37%26rid%3D2616|||"]
Visit us at careers.n3results.com and www.accenture.com
Data Protection Requirement
Adhere to all N3 Data Protection policies, standards, and procedures per your role. Take required continuing education courses in Data Protection at N3 for your role.
---
Equal Employment Opportunity
N3 recruits, hires, and promotes for all positions without regard to race, religion, color, national origin, gender, age, sexual orientation, gender identity and/or expression, handicap or veteran's status. All terms and conditions of employment such as compensation, benefits, work assignment, availability of facilities and privileges of employment are administered on the same basis of equality.